Bring your
own awareness.
Your actions matter.
When you are more aware of the impact the choices you make have on your environment, you can make better choices. Single-use items provide convenience, but have lasting negative effects on the world around us. By learning more about the effects of the choice you make daily, you can become a better steward for a greener world.

Bring your own reusable coffee cup
53,000 homes could be powered every year by energy that's used to make and dispose of paper cups. Most coffee shops offer discounts to those that bring in their own cup. So you can save money and the environment at the same time!

Bring your own water bottle
Most bottled water comes in plastic bottles which take over 1,000 years to decompose. Reusable water bottles made of stainless steel and glass do not contain the harmful chemicals found in most plastic bottles and can save you a lot of money.

Bring your own reusable grocery tote
An astonishing 160,000 plastic bags are used globally every second. Reusable grocery bags have a lifespan equal to that of more than 700 disposable plastic bags. If one person used reusable bags their entire life, it would remove 22,000 from the environment.

Skip the straw
500 million straws are used daily in America. You can reduce your impact by requesting no straw with your beverage, or bring your own reusable straw.
Support a

BYO

-friendly business
Local businesses are getting involved in bringing change to the community. Look for the decal in the front window for a BYO Friendly Business. Restaurants, record stores, boutiques, coffee shop and many other businesses want to create less waste and you can help by bringing your own straws, cups, water bottles, or bags.
LILY'S
BISTRO
329 E 5th St,
Dayton, OH 45402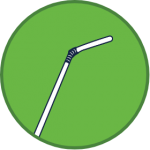 OMEGA MUSIC
318 E 5th St, Dayton, OH 45402
416 DINER
416 E 5th St, Dayton, OH 45402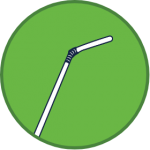 GEM CITY CATFE
1513 E 5th St, Dayton, OH 45403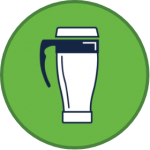 We offer ceramic mugs, tumblers, and metal straws for drinks ordered 'for here', and all to-go cups are compostable!
TROLLEY STOP
530 E 5th St, Dayton, OH 45402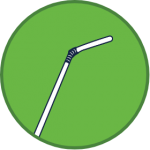 We are being drastic and completely cutting plastic! We now offer composatble straws, cups, and to-go containers.
CRAFT EVENT BAR
Miami Valley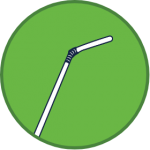 We are committed to reducing waste by eliminating plastic straws and cups. We have switched to glassware for alcoholic drinks and paper cups for water! 
HEART MERCANTILE
438 E 5th St. Dayton, OH 45402
No plastic bags here! We offer paper bags and promote the use of reusable bags.
GHOSTLIGHT COFFEE
1201 Wayne Ave. Dayton, OH 45410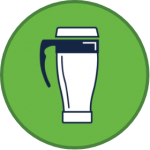 We are switching to compostable products and implementing composting and recycling. Mugs are available for in-house hot beverages. Check out our new reusable products!
DAYTON
DRAGONS
Fifth Third Field
220 North Patterson Blvd.
Dayton, OH 45402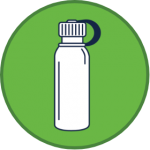 Bring Your Own Bottle to fill with top quality tap water. Save money & reduce your waste!
TAKE BACK
THE TAP
City of Dayton
Water Department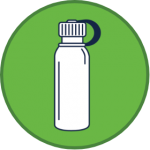 Bring Your Own Bottle to fill with top quality tap water from City of Dayton's Water Trailer at these events . 
DUBLIN PUB
300 Wayne Ave, Dayton, OH 45410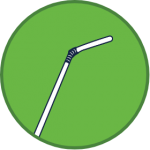 CHRISTOPHER'S RESTAURANT AND CATERING
2318 E Dorothy Ln, Kettering, OH 45420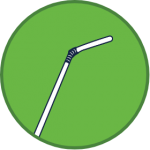 We limit plastic waste by offering biodegradable to-go containers and only giving straws by request!
TASTEFULLY ROASTED
6 Oakwood Ave, Dayton, OH 45409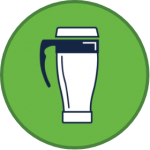 Mugs are provided for drinks ordered 'for here' and we give a 10% discount to customers who bring their own mug!
BUTTER CAFE
1106 Brown St, Dayton, OH 45409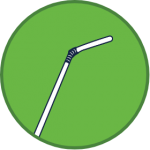 We offer straws by request only!
VICTORIA THEATRE ASSOCIATION
Dayton, OH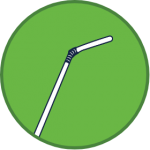 We are moving to compostable options for disposable products throughout all of our locations! 
What does it take to make the list?
Join the movement, be the

change.

Small changes
can make a
big difference.

Have an eco-friendly business?
Certify your business as
DRG Green Certified
Join the network of hundreds of for-profit and non-profit businesses that are committed to creating a greener future for the Miami Valley. Our "Vision" is for the Dayton region to be the most vibrant economy and healthy environment in the Midwest to Live, Work, and Play.
GET CERTIFIED
Stay Connected

Stay up to date with tips, tricks, and BYO-friendly businesses